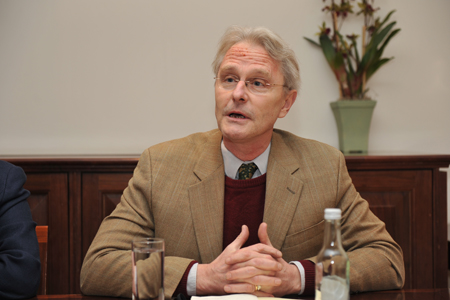 Member of Board of CSS
Lester B Pearson Professor of International Relations, The University of Oxford. AB, Dartmouth College; MA, MPhil, DPhil, Oxford; Research Associate, International Institute for Strategic Studies; Postdoctoral Fellow, Centre for International Affairs, Harvard University; Postdoctoral Fellow, University of British Columbia; Assistant and Associate Professor, University of Virginia; Professor, Queen's University.
E-mail: n.macfarlane@css.ge
Bio: Professor MacFarlane was elected to the Lester B. Pearson Professorship in International Relations at the University of Oxford in 1996. He was Head of the Department of Politics and International Relations at Oxford from 2005 to 2010. He is an associate fellow of the Royal Institute for International Affairs (Chatham House). He is an expert on the former Soviet Union and has written extensively on Soviet/Developing World relations, post-Soviet security issues, international engagement in civil conflict, the evolving meaning of security, Georgian and Caucasian security issues, and contemporary changes in the international system more broadly. He has consulted for the UNDP in Georgia,Azerbaijan and Russia. Professor MacFarlane became head of the international PhD program in International Relations at Tbilisi State University in August 2010. Prof. MacFarlane was awarded an honorary Doctorate by Ivane Javakhishvili Tbilisi State University in October 2011. His research interests are International relations of the former Soviet Union, International security, and International organizations.